Features you want to get the leases you need
Better apartment marketing starts with better apartment websites.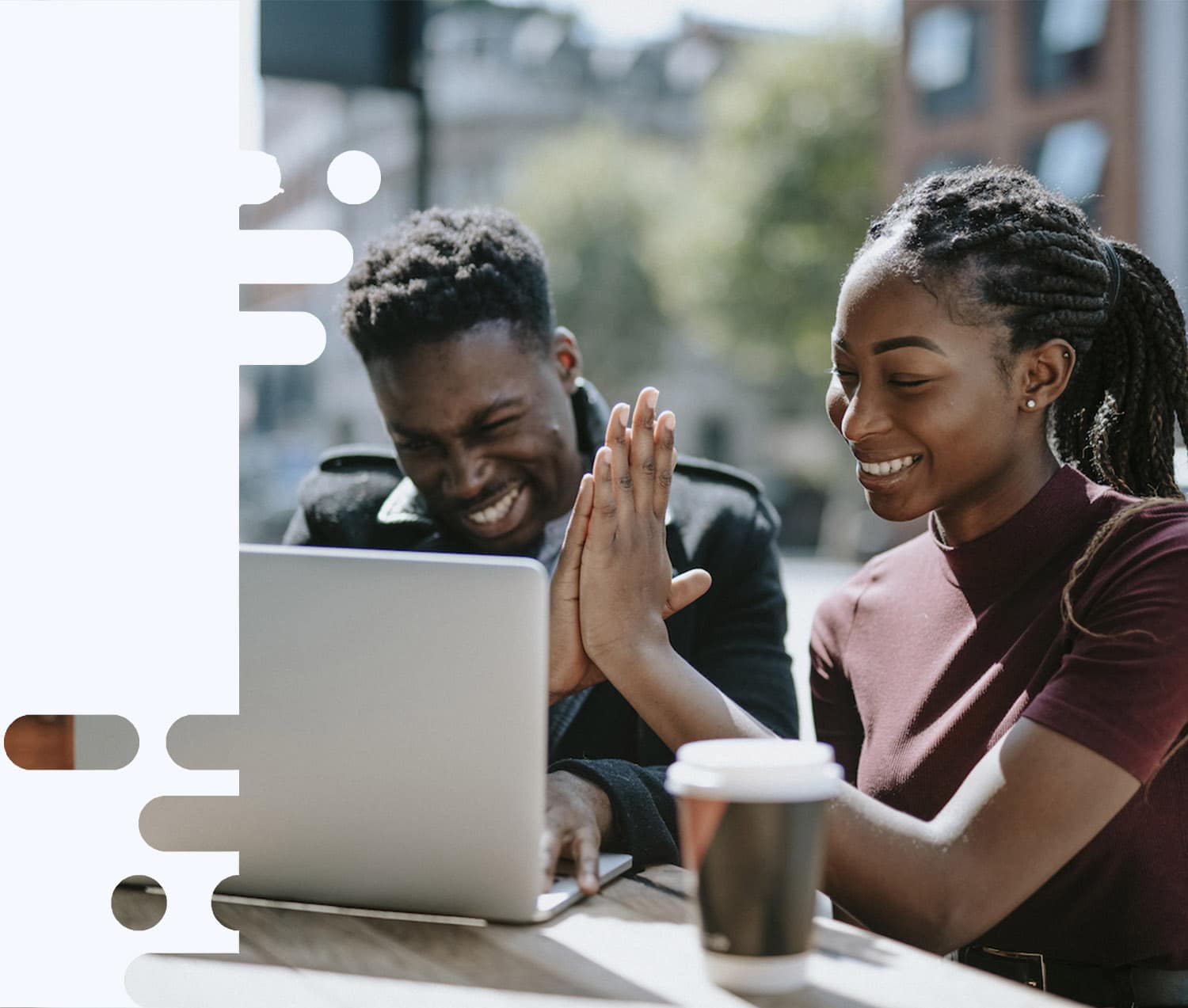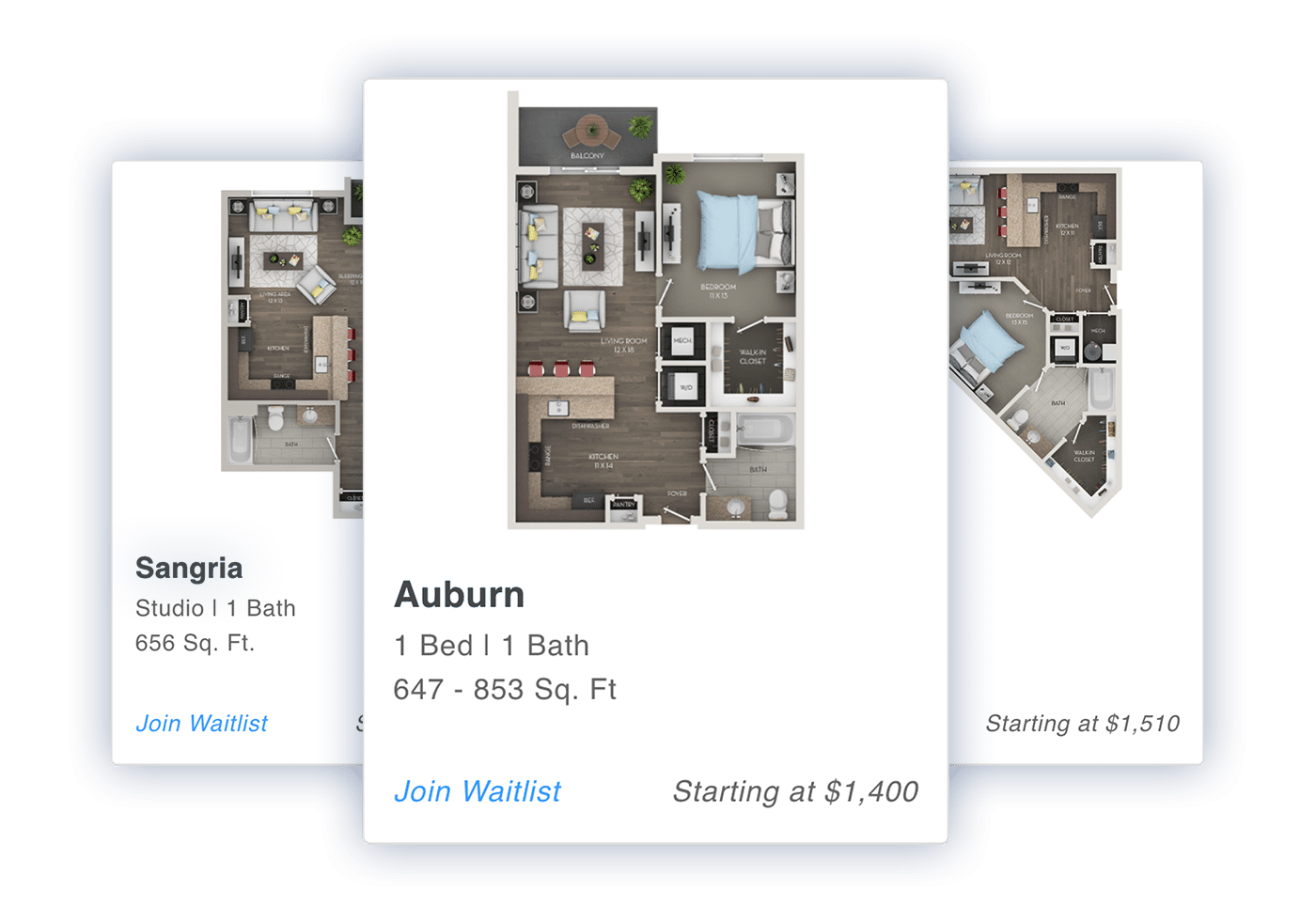 Automatically Updated Pricing
Easy, one-step integration with your property management software, letting you display current pricing and availability on your website.
For one property. For your entire portfolio. Even different feeds from multiple providers, all on the same site.
With a subscription to our RentPress service to parse through property data feeds, RentPress plugin can pull in real-time pricing and availability from the following popular systems:
RentCafe

Entrata
MRI MarketConnect / Vaultware
ResMan
RealPage
AppFolio
And yes, you can mix multiple data sources on one website.
Maximize Lead Capture and Conversion
Our enhanced browsing experience makes it easier for prospects to take the actions you want them to take on your website.
Collect leads right on your site, keep them there, convert them there.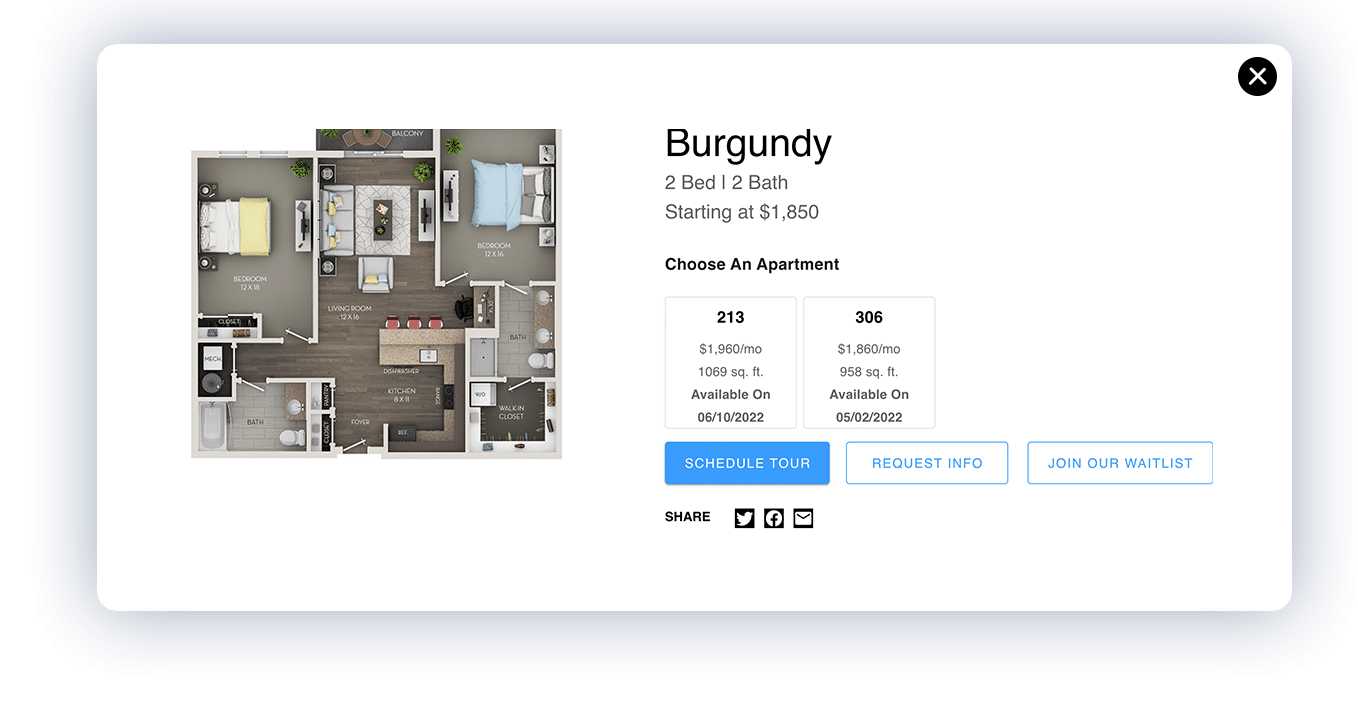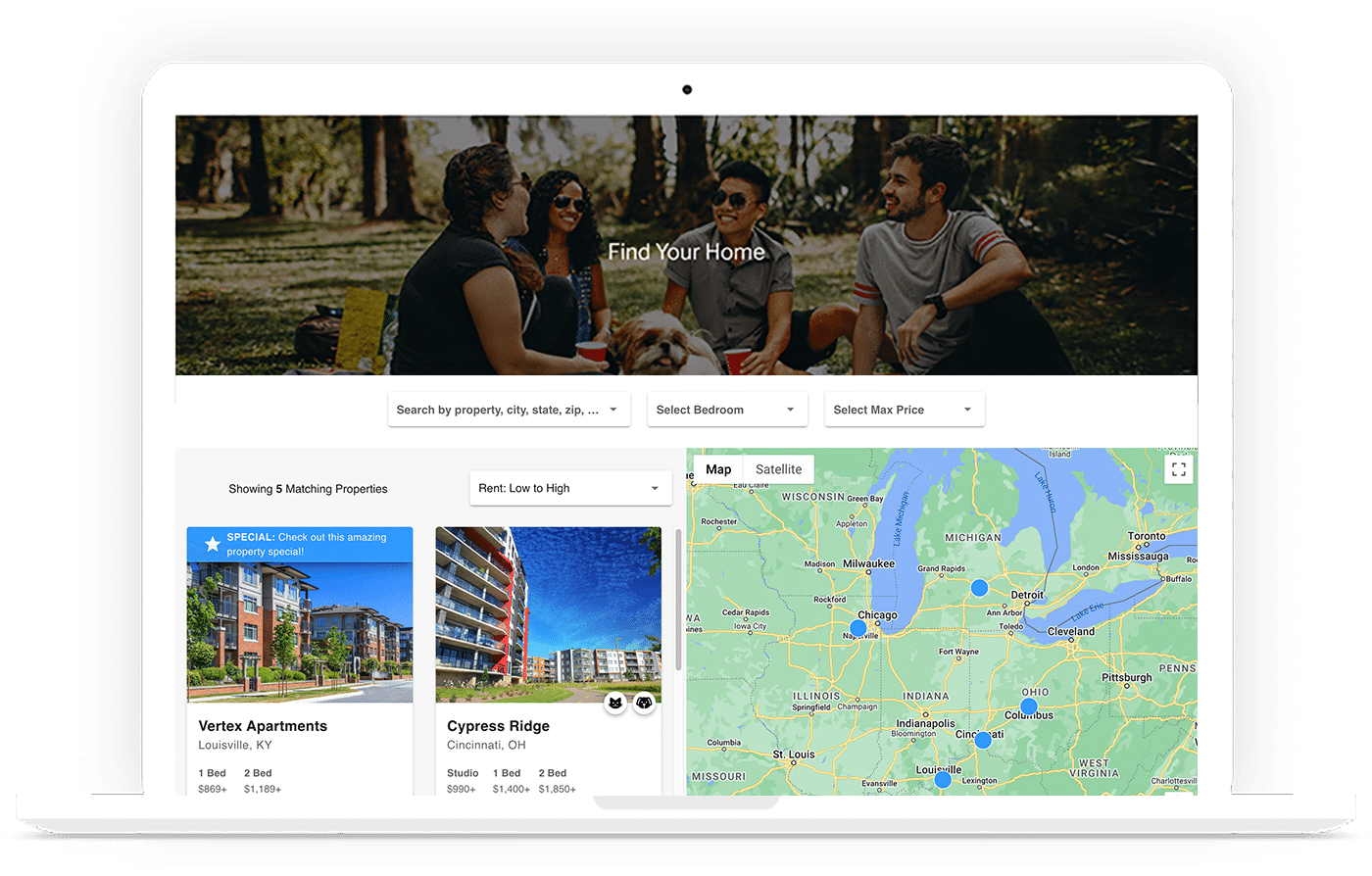 Better Apartment Marketing Starts with Better Apartment Websites
Our new templates, expertly created by our User Experience and Design team, let you create single-property and multi-property websites in minutes. Template pages like search page, property listing pages, Cities pages, and floor plan pages are all included so your website is ready to go from the beginning.
When we say you can build your website in minutes, we mean it. Just check a couple of boxes, hit save, and you have an impressive apartment website. Acting as your digital leasing office, capturing and converting leads in one place.
Display a banner on any floor plan to advertise a special or discount available. If desired, add in a link and even set an expiration date. How's that for thinking ahead?
Each one of your properties brings something unique to the table. Highlight that something special by choosing a type of community it represents. Or even choose several!
Our search template gets smarter. Turn on Advanced Search and you'll see all of your properties on a map. Additional filters help shoppers drill down to see the best fit for them.
Your customers know where they want to live. Now, you'll automatically have location-based landing pages to help shoppers find their next home.
Take the next step and add photos or a map and local favorite hotspots. 
A new RentPress Add-on brings a tour scheduler to your website. And it's fully-integrated with Yardi CRM. (RentPress: Yardi Toolkit Add-on available separately.) 
Page schema helps you level-up your SEO efforts. Websites using RentPress templates will have key information reported in Google search including price, address, phone number, and even rating (RentPress: Reviews Add-on required).
Apartment Marketing doesn't stop when you're fully occupied. With a community full of tenants, it's a great time to think ahead and prepare for future vacancies. Take the first steps into developing your waitlist strategy with Waitlist Mode.
You can nowautomatically update all of your calls to action when you are booked up. Letting you continue to collect prospect information and nurture them until you have their perfect home available. 
The fun part, of course, is the new primary CTA: "Join Our Waitlist." Now, you can either send shoppers to a standard /contact/ page to fill out a guest card, or send shoppers interested in joining a waitlist to a specific form (by default, /waitlist/).
With a direct integration with Google Analytics, you'll gain a deeper understanding of key customer interactions across your website. Automatically track actions like filter by bedroom count, get directions to property, phone calls, and much more.
Highlight your 360 virtual and video tours right on the floor plan page. Letting potential residents get to know their future home even when they're across the country.
The Reviews Addon lets you showcase resident reviews from Modern Message, Kingsley or Google Places anywhere on your site
Show off your reviews on a property page, a blog, or create an entire page dedicated to resident love.
Location! Location! Location!
Let prospects know where you are and all that your neighborhood has to offer by displaying your property's location on a map with Google API.
And for those prospects closeby add a "Schedule a tour" CTA. Then bring them to a page that lets them schedule a tour at their convenience.
Quickly enable a properties search page on your site with our new Search Page template. Allow prospects to search and filter all properties across your portfolio by beds, price, pets, and more.
Shoppers can now effortlessly find properties by the location they want with the "Cities" taxonomy. Automatically organizing your properties by their city, you can add in romance copy and a picture to represent your city, and you're ready for neighborhood leasing.
SEO Made Simple
With easy to create Search, cities, and pets pages, setting your site up for Search Engine Optimization is a piece of cake! 
Why WordPress?
There's a reason why WordPress powers almost a quarter of the entire Internet. It's easy to use, optimized for SEO, and familiar to designers and developers across the globe.
Big names like The New York Times and eBay are already taking advantage of WordPress. Isn't it time your apartment websites leverage the same power?
Meet RentPress for Apartment Websites
Want to learn more? Schedule a personal tour today.
Maximize Your Marketing Reach
Enhance what customers see on your local listings with current office hours, photos, and even pricing and availability, making it easier for your prospects to see you're the best fit for them.
Put your most important, most current info right in the places where prospects start their search.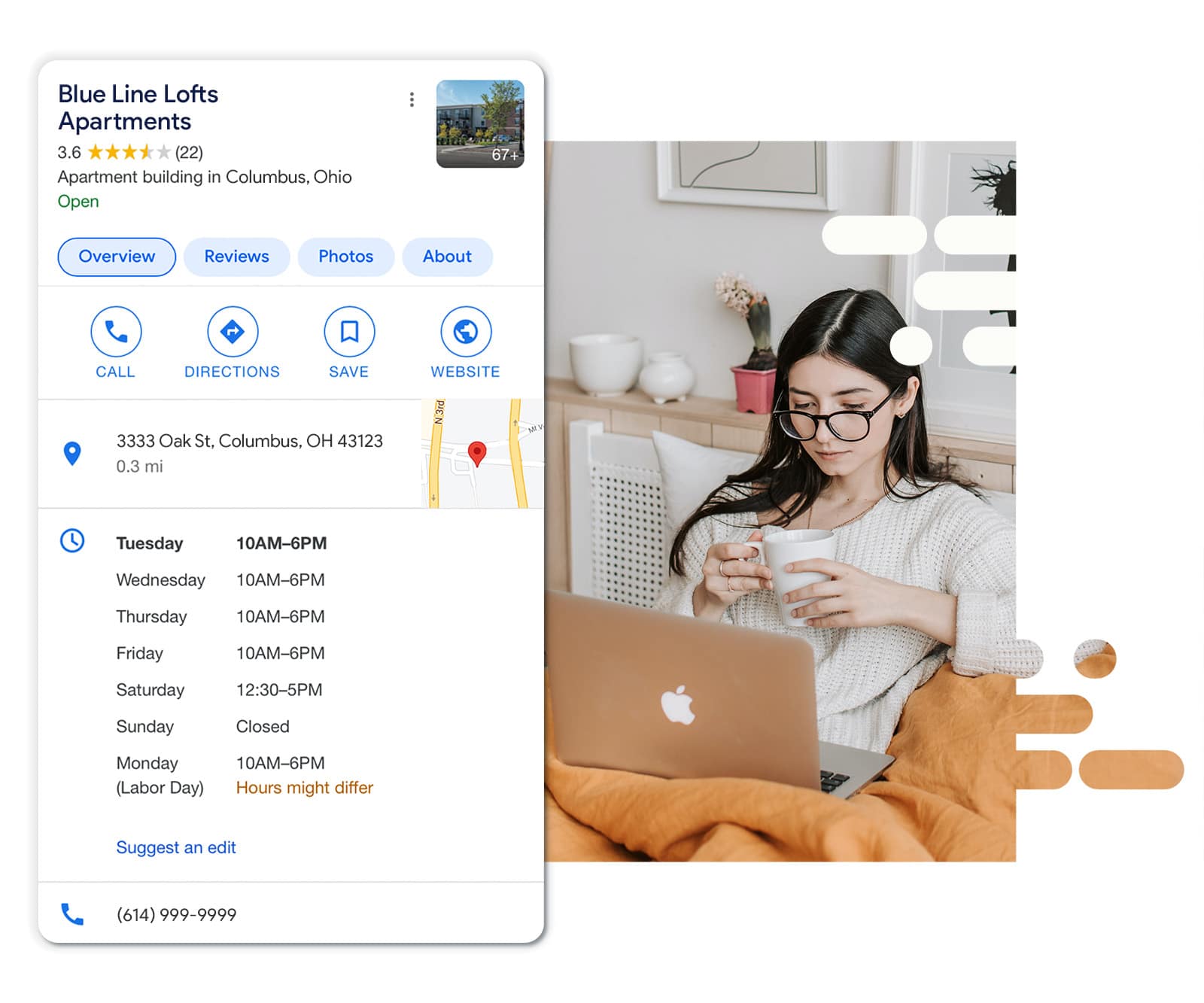 Find out how to get started
Power Your Marketing With RentPress
Your website should be the center of your marketing efforts. RentPress can revolutionize any WordPress website into a valuable apartment marketing hub. And at a reasonable price.