Hey there, RentPress friends!
We're excited to bring you the latest release (7.4) of RentPress for Websites, which brings a 🚢 boatload of new features and bugfixes for websites large and small. We have property brand colors 🎨, enhancements to city landing pages 🏙, and a totally refreshed single floor plan experience 🪄. The update is live NOW and available to all websites.
Unit-Level Marketing
No matter how they shop, there's no question that apartment hunters want to see the apartment.
As in, they want to see the exact apartment they're considering – how is the lighting, check out the view, does it have the features they're looking for.
Now, you can showcase multiple photos, unit-level features, and more from your floor plans pages. (This is great for all properties, and it's perfect for those value-add projects where you're in the process of renovating units across a property.)
With 7.4, we're bringing a whole new look to the single floor plan pages.
Floor plan images now bring in multiple images from your data feed (where provided)
Individual units will show the unit-specific features found in that unit (also right from your data feed)
We've added a new list to display floor plan features distinct from the broader community amenities
The floor plan's deposit range is now displayed to shoppers.
Here's a look at how works on the individual floor plan page: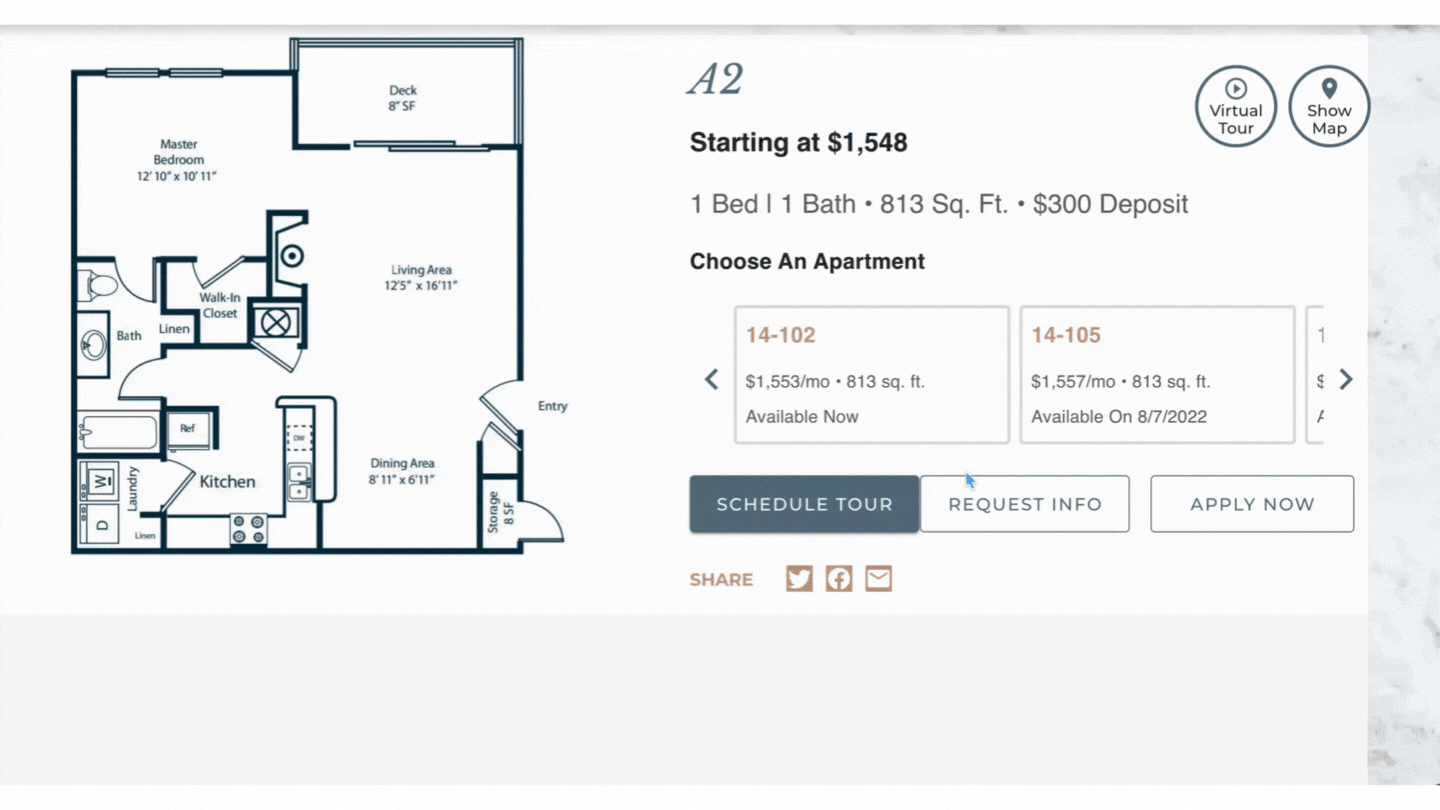 Custom Filters
Our new custom branding and property filters allow you to give shoppers new ways to filter through available apartments.
Let's say you have a phased project with multiple buildings, and you want customers (and your leasing team) to be able to sort floor plans by phase. Now, you can easily add a filter for this right on the main Floor Plans page.
Check out The Town Center Collection or The Collective DC as examples of our new branding and property filters in action.
Full changelog below:
RentPress for Websites 7.4 – NEW FEATURES
A new look for single floor plan pages
Floor plan images now bring in multiple images from a data feed (where provided)
Units will show unit-specific features that residents will find in that unit
Adds a new list to display Floor Plan Features distinct from Community Amenities
The floor plan's deposit range is displayed to shoppers
Adds Minimum Deposit and Maximum Deposit fields to floor plan editor
New Branding section in property editor
Properties can select a unique color to represent their brand
When enabled, the property color will be reflected in elements on floor plan search, single floor plan, and property listing views
Adds a new Integrations tab to property editor
Introduces a new extendable integrations framework for developers (Lots more on this soon!)
City extended description now supports most HTML tags and special characters. For more info, see: RentPress: Adding City Content
All taxonomy terms that have an Extended Description field support HTML and special characters as well
UPDATES
Adds more robust logic for manually-added units.
Shoppers can now cancel their unit selection.
Style updates for mobile browsers.
Adds and re-orders style classes for easier customizations.
Better handling of amenities and terms that have special characters or missing data.
BUGFIXES
Bugfixes and improvements to data sync
WHAT'S NEXT?
Stay tuned, because we have new integrations, new features, and more product enhancements to the shopping experience in the works. We're working on ways to more tightly integrate interactive maps into the browsing experience, as well as ways to connect online and on-site shopping. There's a lot more to come related to unit-level apartment marketing, too.
Have a new feature or integration you'd like to see? Drop us a line … we'd love to hear from you!
---
That's all for now – RentPress for Websites 7.4 is available now! Multifamily marketers, ask your website vendor to update your site, or talk to the team at 30 Lines about how you can get RentPress for your property or portfolio. Agency partners, you can download the latest update from the WordPress Plugin directory now.